It's normal to see fast food makeovers over the years and earlier this year we saw Popeyes update their sandwiches with the spicy chicken sandwich.  With more and more competition from the fast casual restaurants, fast food joints need to step up their game. The latest makeover at McD's is with their Crispy Chicken Deluxe Sandwich becoming the new Premium Buttermilk Crispy Chicken Deluxe Sandwich — let's review.
McDonald's describes their new Premium Buttermilk Crispy Chicken Deluxe Sandwich like this:
"A tender, juicy, filet made with 100% chicken breast meat, real buttermilk and no artificial colors. Plus fresh tomato, crisp leaf lettuce and mayonnaise. All atop our delectable artisan roll."
Review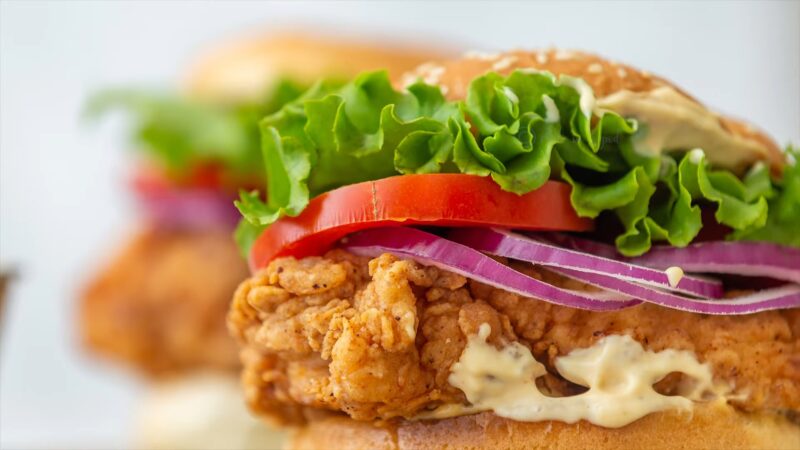 I hate to use the term "millennial", but the move toward real ingredients that you can pronounce is due to a big shift in the culture of eating out (and the millennials are the focus when it comes to fast food business).  Fast food is looked down upon by many and these fast food chains places are constantly having to defend themselves.
Changing your products around to fit in with the current trends is inevitable, yet I can't say removal of certain harmful chemicals in the foods we eat is a trend.  In the end, restaurants just want your money and giving the consumer what they want is really the bottom line.  I'm sure it will still take a long time to change a lot of minds.

The new Premium Buttermilk Crispy Chicken Deluxe Sandwich is a shift to a more natural crispy chicken sandwich offering, but don't kid yourself and think there still isn't a bunch of ingredients in the recipe that require some food science expertise.  Beyond all that, the core components of this sandwich consist of the buttermilk crispy chicken filet, a slice of tomato, mayonnaise, leaf lettuce, and of course the artisan roll.
The chicken filet was kind of a cross between the previous Crispy Chicken Deluxe and the discontinued Southern Style Crispy Chicken Sandwich. It had a noticeably crisp and crunchy crust that suffered a few dry, crusty spots in the cooking process.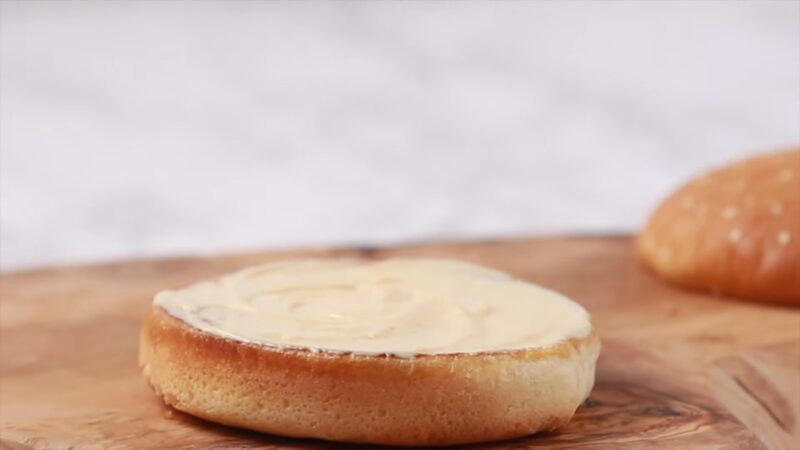 There was a sign posted on the drive-thru speaker that read, "We cook with real dairy.  We're proud to use real buttermilk in our Buttermilk Crispy Chicken, which shares a fryer with Chicken McNuggets and other fried chicken products.
We want you to enjoy your experience, so if you have adverse reactions to milk, please consider other great McDonald's options."  Aside from the crusty spots, the breading hugged the chicken fillet close and was thick enough to give it some added size without going overboard and becoming all about the exterior.
The flavor of the breading had some hints of cream and pepper.  The chicken itself turned out to be quite tender and moist with no areas that were stringy or too chewy.  I found the produce duo of tomato slice and leaf lettuce to be cool and fresh… an excellent example of a fast food place getting their lettuce and tomato combo right.  McDonald's goes a little overboard with mayo application, but it wasn't a big deal.
Simple mayonnaise was a fine choice to add the necessary creaminess to a chicken sandwich.  There's plenty of room for future incarnations of this sandwich with plenty of sauce and cheese combinations.  The artisan roll is lightly toasted, soft and sturdy with some mild corn sweetness.
At a price of $4.59 for the sandwich alone, it's a decent value for a half pound sandwich.  It's got a little bit more weight to it when compared to the Artisan Grilled Chicken sandwich which is the same price.  Interestingly enough, there's actually less sodium in the Buttermilk Crispy Chicken Sandwich (Buttermilk Crispy 900 mg vs Artisan Grilled 960 mg).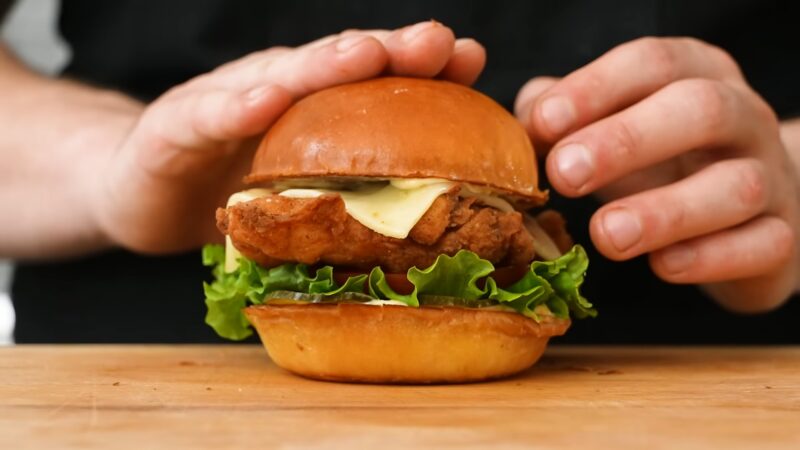 The whole buttermilk thing isn't a big change if you ask me, but it works well for a crispy fried chicken crust.  There were some minor issues with crusty dry ends that luckily didn't have an impact on the chicken itself. It's a simple crispy chicken sandwich that represents some necessary recipe updates like the removal of artificial colors. To sum up the new Premium Buttermilk Crispy Chicken Deluxe Sandwich, I'll say it's decent, but nothing special.
| | |
| --- | --- |
| Taste: | 7.00/10 |
| Value: | 6.50/10 |
| Grubbing on-the-go: | 7.00/10 |
| Price: | $4.59 |
| Overall Rating: | 7.00/10 |
| Serving Size: | 8.1 oz |
| Calories: | 580 |
| Total Fat: | 24 grams |
| Saturated Fat: | 4.5 grams |
| Carbs: | 62 grams |
| Cholesterol: | 65 milligrams |
| Sodium: | 900 milligrams |
| Sugars: | 11 grams |
| Fiber: | 4 grams |
| Protein: | 29 grams |
Pros
Half pound sandwich under five bucks
Tender, moist chicken fillet
Great produce and bun
Cons
Buttermilk-based chicken breading suffered some dry spots.
Recipe – Make Your Homemade Tasty Version
Keep in mind that this is a simplified version and may not exactly replicate the taste of the McDonald's sandwich.
Ingredients: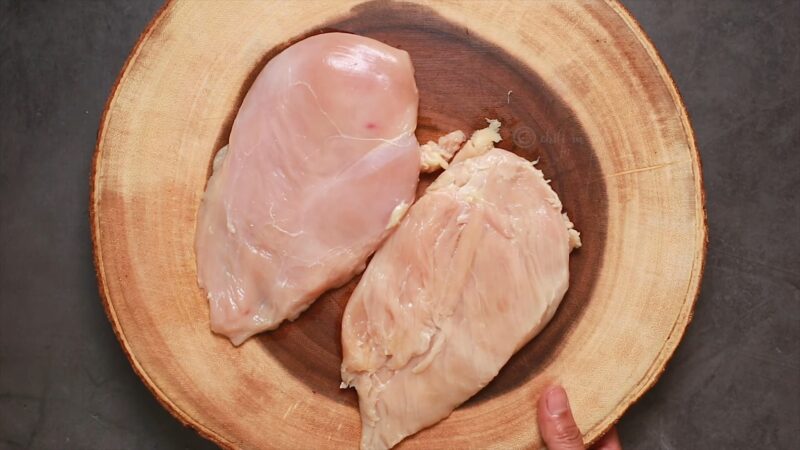 For the Chicken:
4 bone-in chicken pieces (2 drumsticks and 2 thighs)
1 tablespoon kosher salt
1 teaspoon freshly ground black pepper
1 teaspoon garlic powder
1 teaspoon onion powder
2 teaspoons lemon zest (about 1 lemon)
2 cups all-purpose flour
2 teaspoons baking powder
1 cup buttermilk
2 large egg whites
2 tablespoons vodka
For the Sandwich:
4 artisan rolls
4 fresh lettuce leaves
4 slices of fresh tomato
Mayonnaise, to taste
Steps: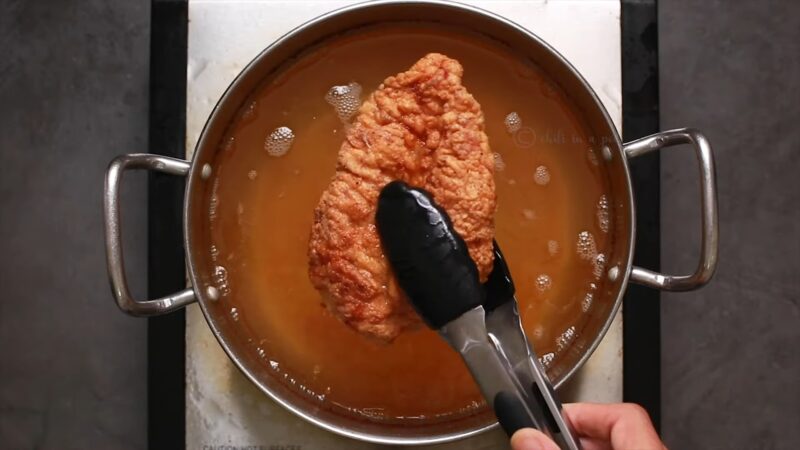 In a small bowl, mix together the salt, black pepper, garlic powder, onion powder, and lemon zest. Pat the chicken pieces dry with a paper towel and season with the salt mixture, evenly coating each piece.
Line a large resealable container with paper towels and add the seasoned chicken. Refrigerate uncovered for at least 4 hours, preferably overnight.
30 minutes before frying, remove the chicken from the refrigerator to bring to room temperature.
Add the canola oil to a large Dutch oven and heat over medium heat until the temperature reaches 350°F (180°C). Place a wire rack over a rimmed baking sheet and set nearby.
In a large bowl, whisk together the flour, baking powder, onion powder, garlic powder, and salt. In a separate large bowl, whisk together the buttermilk, egg whites, and vodka.
Working with one piece at a time, coat the dry-brined chicken in the flour mixture, then in the buttermilk mixture, then again in the flour, shaking off any excess.
Add 2–3 pieces of chicken to the hot oil and fry for 7–10 minutes, flipping once, until the internal temperature reaches 165°F (75°C) and the exterior is golden brown and crispy. Remove from oil, transfer to the wire rack, and season with salt. Repeat with the remaining chicken.
To assemble the sandwiches, spread mayonnaise on the bottom half of each artisan roll. Top with a lettuce leaf, a slice of tomato, and a piece of the crispy chicken. Cover with the top half of the roll.
Serve your homemade Premium Buttermilk Crispy Chicken Deluxe Sandwiches immediately and enjoy!
Please note that this is a homemade version of the sandwich and may not taste exactly like the one from McDonald's. However, it's a delicious and healthier alternative that you can easily make at home. Enjoy your cooking!
Bottom Line
The world of fast food is ever-evolving, with McDonald's Premium Buttermilk Crispy Chicken Deluxe Sandwich being a testament to this change. This sandwich, with its focus on real, pronounceable ingredients, is a step towards healthier, more natural fast food options. While it's not revolutionary, it's a decent addition to the McDonald's menu.
For those who enjoy the art of cooking at home, recreating this sandwich can be a fun and rewarding experience. The homemade version of the Premium Buttermilk Crispy Chicken Deluxe Sandwich, as outlined above, provides a healthier alternative without compromising on taste. It's a simple yet delicious recipe that can be easily prepared in your kitchen.