Embracing positive change is a sentiment we can all rally behind, and when it comes to fast-food options, I've always had a slight reservation about McDonald's grilled chicken sandwiches. However, my excitement soared when I heard they've given it a marvelous makeover. Enter the delightful new Artisan Grilled Chicken Sandwich!
Picture this: a 100% succulent chicken breast, expertly seasoned with a delightful blend of salt, garlic, and parsley, all skillfully seared to perfection in McDonald's very own kitchens, without any pesky preservatives.
And the magic doesn't stop there! This tender chicken masterpiece is then lovingly nestled between the folds of a delectable artisan roll, providing a truly premium experience.
But that's not all! Accompanying the heavenly chicken is a crisp leaf lettuce, a slice of fresh tomato, and a tantalizing vinaigrette dressing that brings the whole ensemble to life.
Believe me, the revamped Artisan Grilled Chicken Sandwich is a tantalizing treat that's sure to win over even the most discerning taste buds. A true masterpiece that McDonald's can be proud of, and one that I can't wait to savor!
Review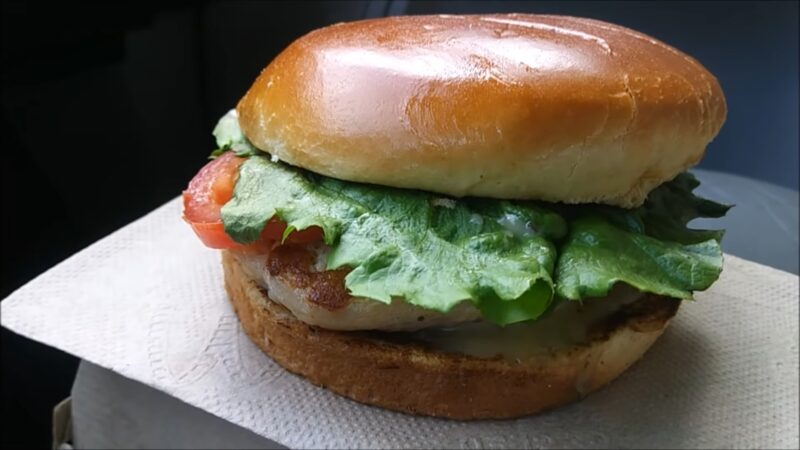 The crux of the matter is that while a new name and fancy descriptions might pique interest, the real test lies in proving oneself. McDonald's seems to be making genuine efforts to simplify their ingredients by cutting back on additives and preservatives, opting for a more natural approach.
Gone are the days of thick mayo in their grilled chicken sandwiches, replaced by a light, zesty vinaigrette dressing that adds a delightful flavor without the excess fat and calories.
The appearance of the new Artisan Grilled Chicken Sandwich has improved, featuring a more natural color with visible signs of parsley seasoning. The seasoning, which includes salt and garlic, brings out a herby side with a hint of lemon citrus, making the chicken taste more wholesome.
The cooking process has also changed, using olive oil and canola oil instead of liquid margarine.
The sandwich comprises a slice of fresh tomato and leaf lettuce, both consistently bright and crisp, ensuring high-quality produce. The artisan roll, shared with the Bacon Clubhouse sandwich, is sturdy and lightly toasted, providing the perfect base for a hearty meal.
At $4.59, the Artisan Grilled Chicken Sandwich offers good value, clocking in at just 360 calories, 6 grams of fat, and an impressive 32 grams of protein. With its health-conscious attributes, it stands apart from some of McDonald's more indulgent offerings.
Pros include a guilt-free option with herby grilled chicken, the substitution of thick mayo with a light vinaigrette, fresh produce, and a reliable bun. However, the texture of the chicken could use some improvement.
In summary, on a scale of 1 to 10, the sandwich earns a respectable 7.00, thanks to its better-for-you profile and overall taste. With fewer calories to feel guilty about, it's a smart choice for those seeking a healthier option at McDonald's.
If you're intrigued by McDonald's offerings, you might also want to check out this review of their Grand McExtreme Bacon Burger. 
Nutrition Facts:
Serving Size – 7.2 oz
Calories – 360
Fat – 6 grams
Saturated Fat – 1.5 grams
Carbs – 43 grams
Cholesterol – 80 milligrams
Sodium – 930 milligrams
Fiber – 3 grams
Sugars – 11 grams
Protein – 32 grams